Fancl Agaricus Agaricus Mushroom Extract, for 90 days
Fancl Agaricus Agaricus Mushroom Extract, for 90 days
Overview
Application
Specifications
Reviews

0

Delivery and payment
Agaricus extract has been proven to help maintain a healthy immune system.

The main active component of Brazilian Agaric is beta-glucan-a unique polysaccharide that can activate the body's immune system, create protection against tumor cells, viruses, bacteria, fungi, parasites and carcinogens.
Beta-glucan increases immunity, neutralizes free radicals, effectively counteracts malignant formations in the tissues of organs. In addition, Brazilian Agaric also contains 18 types of amino acids, lipids (neutral lipids and phospholipids), methionine, aspartate, unsaturated fatty acids and other active components.
The health benefits of Agaricus include relief from chronic fatigue, blood sugar balance, improved mood, low blood pressure, increased libido and increased immunity.
Application of Brazilian Agaric Extract:
- Oncology (treatment of malignant tumors; high efficiency, including in the last stages of oncology);
- Prevention and treatment of benign tumors;
- Prevention and treatment of cardiovascular diseases;
- Protection of liver function, protection of the spleen and the entire immune system;
- Prevention of diabetes, prevention of hyperinsulinemia;
- Prevention of osteoporosis;
- Reduction of high cholesterol levels in the blood;
- Prevention and treatment of infectious diseases;
- As a complementary remedy before and after radiation and chemotherapy;
- Treatment of allergies and skin diseases;
- Protection from the effects of radiation, etc.
Ingredients 1 sachet 2.5 g: in a bag, 1.25 g of agaric extract is equivalent to 3 g of dried mushroom;
Additional ingredients: hydrolyzed starch, cellulose.
It is not a medicinal product. Consult a specialist before use. Do not use for pregnant women, lactation period. In case of allergies or deterioration of health, discontinue use.
Note:
Agaricus Blazei Murill.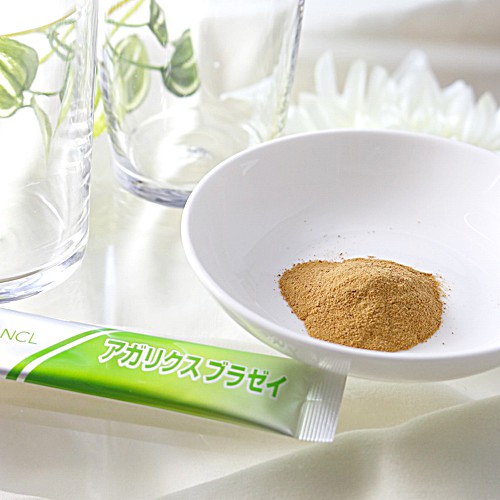 Deep in the rainforests of Brazil, a wild and almost magical fairy mushroom has earned the sacred title " Cogumelo de Deus "or" Mushroom of God " (in Portuguese). This is because in addition to its unique structural beauty, this mushroom is a literal God in the health sense. Agaricus Blazei Murill is widely regarded around the world as a gift of nature that brings health and longevity. This amazing South American fungal species is considered so powerful that Japanese manufacturers cultivate it for use in the treatment and prevention of a number of diseases. Agaricus extract has also been studied and demonstrated to exhibit generalized immunomodulatory effects, meaning that it helps maintain healthy immune function.
суточная норма - 1 саше. Можно разводить в стакане теплой воды или запивать небольшим количеством воды.
| | |
| --- | --- |
| Availability in stock | Warehouse Japan |
| Brand | FANCL |
| Admission course | На 90 дней |
| Tablets in a package | 30 |
| Equipment | 30 саше x 3 упаковки |
| Weight with packaging | 450 g |
| A country | Japan |
Fancl Agaricus Agaricus Mushroom Extract, for 90 days reviews
Categories:Prevention of oncologyImmunityAgaricus, meshima, reishiJapanese dietary supplements for the liver, stomach, intestinesFANCLSets from Japan "Health"MushroomsFor the liver
1Бонусами можно оплачивать до 30% стоимости товаров
2Персональные скидки и предложения
3Начисляем бонусы за каждый заказ